Keep coming back to these pages, as there are apt to be updates from time to time!
| | |
| --- | --- |
| Saturday August 30, 2008 13:53 | |
So that you know what I am doing with this page:
This page is an index to the catalogue of books we own. I put links on here to the pages on this site, that list the books in our library. I am in the process of making pages that list the books that we have. I am doing this in case anyone should want to borrow a book from us. Of course these pages will always be added to and updated as we are always buying books. Each page is a different category from the library. Each category page is further broken down into smaller categories. It may take some time before we have a complete listing of all the categories in the library. Once Robyn gets all the "current" books typed in, then she should be able to add the new books as they come in. "Current" is relative, as new books come in all the time. We buy most of our books at garage/estate sales, charity thrift stores and a charity book sale in the fall (autumn). Once in a great while we visit a local used book shop. If I can remember it, I will tell why or how we came by a particular book. We never know what we will find. A lot of these books are bought for reference. I doubt we could read them all 100%. Let me know if you would like to borrow one of our books. Robyn hopes to type in the Biblical research and related books next. There are some things she has on the "to do" list which come first though. She is typing this present text, January 14, 2004.
February 2, 2005 Robyn is the book person of this household. I like to buy books on the cheap. I don't usually buy "antiquarian and rare" books unless I happen on them by accident and the seller doesn't know what they are selling. I normally buy books for the contents, rather than because the book may have value. To me, what a book says, is the important thing. I have been known to buy "reading copies" of books. In some cases, the words on the page, have more value to me than the collector's value of the book.
September 29. 2005 A note as I add more books to the Botany and Biblical Science pages. In this Catalogue I might say that a book smells of tobacco. It could be that it has a musty smell rather than a tobacco smell. They get bought with that smell to them. A lot of our books got moved to our basement in 2004. (The floor was warping in this room.) I am hoping they don't get too musty down there. I have tried to keep the odd ones that might be "valuable" up stairs here. I can't keep them all up here though. Some day it would be nice to have a "real" library in the house, so that I can keep all the books in one place.
September 30, 2005--- In the summer of 2005 I went to lots of thrift stores, estate sales, and such like. I bought quite a bit of books then. Some of the "newer" (to us) books came to us then.
June 7, 2006 --- There's tons of books to add to this catalogue. In April and May I bought a bunch of books to add on here. (Thanks Papa!) A lot of them are going in the medical section. Right now, I am going to put on here, a list of some of the categories I hope to get on here in the future.
August 29, 2008 I am currently cataloguing a lot of books onto LibraryThing. This list and the online list are not in synch yet. It is easier to get books catalogued onto LibraryThing than it is to hand type them onto this website. I haven't found a way to export the catalogue from there to this site. In the process of doing this cataloguing, I find that I have books in common with librarians. I was invited to join a BBC Radio 3 group on there. That was cool as this is the last day of CBC Radio 2 being a classical music station. They are making the switch to jazz on Tuesday. You can click on the little box next to this to view the library.
Some Categories Yet To Be Added to this page: (going from memory---can't remember them all off the top of my head---names of categories may change when added to the list)
Soviet/Russia/Russian Language; England/UK; Scotland; Latvia; Germany/German Language; Dictionaries/English grammar/ Language/ Alphabets/ Calligraphy; Writing "how to" books; (A better place for the ever growing section) Radio Books; Murder Mystery; Biography; fiction; humor; Atlases; History---World/U.S./Texas/Western U.S./ Michigan/Canada, etc.; Movies/Entertainment/Rock-n-Roll; Theater (and Theatre); Music books (see also hymnals in Biblical category); "Coffee Table" picture books; Reference; Misc. "fun" books; Children's books; Douglas' naval books; "fan" stuff; How To; Art; Poetry; Collecting;... (and many more) Oops! I almost forgot a main category, COOKBOOKS!!!!!.....Then of course there's Etiquette...
Here is a list of the pages in the catalogue. You can click on each one in order to read what we have in our library. Sometimes I have listed books in a "wish list" as well.
| | |
| --- | --- |
| | Biblical Books Biblical Research Books and Other Books with a Biblical Subject. Feb. 2005-- Under Construction |

| | |
| --- | --- |
| | Biblical Scientific Books List of old books dealing with Biblical and Scientific subjects. These are mostly "anti-evolution" books. There are also Biblical Archaeology and other related subjects as well. Some of the titles we have, and some we would like to find. Each category is clearly marked. |

| | |
| --- | --- |
| | Health and Medical Books Books dealing with health, old medical textbooks, nutrition, dieting, exercise, quack medical books, hygiene and sex education, old catalogues for "health" products, etc. Some of the books are good "genuine" health, some are quackery. A good many of these are fun to read. Some of them are only good for a laugh. |

| | |
| --- | --- |
| | Radio Books Books that are on all aspects of radio, broadcasting, history of radio, Amateur Radio, Writing for Radio, etc. |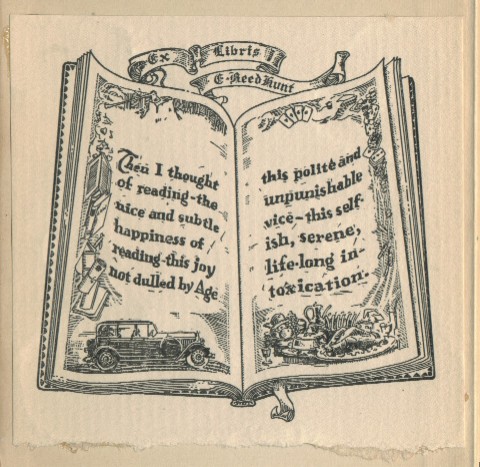 Above is a book plate found in my copy of "The Mothercraft Manual".
This is more of the quote found on the book plate:
"Consolation

The other day, depressed on the Underground, I tried to cheer myself by thinking over the joys of our human lot. But there wasn't one of them for which I seemed to care a button- not Wine, nor Friendship, nor Eating, nor Making Love, nor the Consciousness of Virtue. Was it worth while then going way up in a lift into a world that had nothing less trite to offer?

Then I thought of reading- the nice and subtle happiness of reading. This was enough, this joy not dulled by Age, this polite and unpunished vice, this selfish, serene, life-long intoxication."
This is a quote from Morley's first collection of Modern Essays. It is a good quote for books and libraries.