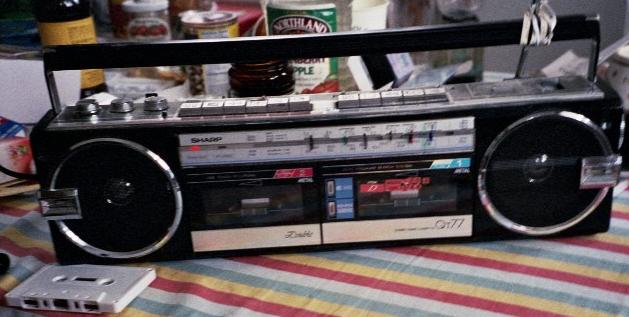 "Boom box" I have had since probably the summer of 1986. Bought in Littlefield, Texas. Was a floor model. The tape recorder/player (s) no longer work properly if at all. It has been "rained" on more than once. Not heavily rained on. After being in "damp" conditions the "first" time, it would make a squeaking (whistle?) noise when the power was turned on. The radio didn't work. It has done that whenever it has been in very damp conditions. (Which have all happened accidentally by the way.) Each time as the radio has dried, the noise has stopped. It makes a sort of loud static noise now when the volume is touched. It doesn't have any features as far as selectivity or for getting single side band. I do like it that I get some interesting stuff on it at times. When the weather is cloudy, stormy, or snowy it seems to get the most unusual stuff. One year it seemed to snow on Thursdays. It was very early spring/late winter. I was able to get the Northern Quebec service of the CBC. It came in fairly clear at times, most of the time it was faint. This was amazing that it was during the afternoons, while it was flurrying out.
I think I get a lot of "harmonics" on this radio. For the log I am trying to tune in on a Grundig Satellit 700 what I get on this Sharp radio. Well, I can't always find on the Grundig, what I am listening to on the Sharp. The Grundig has issues. I have to run it off batteries. I am not sure it is working 100% like it aught to. I do know this Sharp is not a spring chicken either. It has definite issues.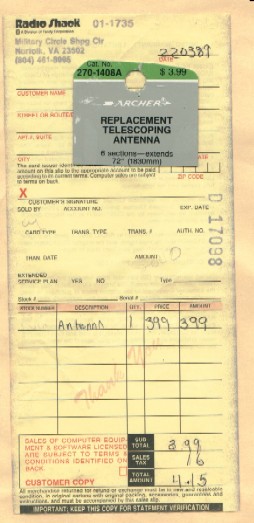 In 1989 I bought a five ft. antenna to go on this Sharp radio. I had snapped off the original antenna some how. The present antenna is loose. The anchor screw that holds the antenna mount tight is stripped. So I use the large twist tie mechanism you see in the photo.