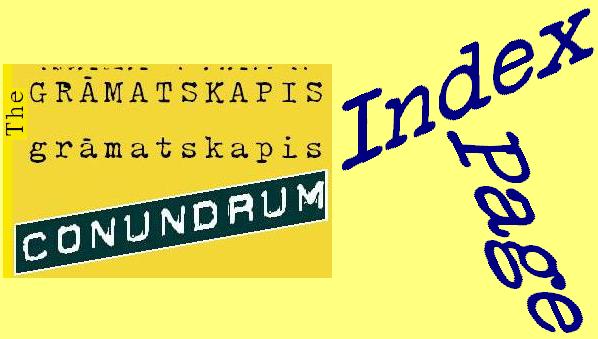 This is the index to the "Book-Case Conundrum" pages. I'm writing a novel story called, "The Book-Case Conundrum". I have the whole of chapter one on one page. I wrote up a "Whyfore?" page where I ask for help, and I explain some things about the story. There's a journal of my writing progress on another page. There's a glossary of some "foreign" words used in the story. Then I have a feedback page for this story. Just scroll down this page to see which page you want to read. Any feedback or help will be appreciated!
To get back to the "Hand Typed Radio Drama" index, click here. To get to the main "Table of Contents" click here. To get to the front page or "home page" of this website, click here.
| | |
| --- | --- |
| | I've stuck the whole of chapter one on here. It should be a final draft (so far). That doesn't mean this first chapter will stay exactly the way it is presented on the site now. As this is becoming a rather long document now, don't expect any changes to be made to this version. (Unless there is something glaring that needs fixing.) |
| | |
| --- | --- |
| | My journey as I write, "The Book-Case Conundrum". This may not make complete sense to you, but you can read it none the less. This page is a sort of journal. As I write, "The Book-Case Conundrum", I keep track of my progress in this journal. I was doing that anyway for my own benefit, and figured I would stick it on here as well. |
| | |
| --- | --- |
| | You might run across some "strange" words in this story. There's a glossary where you can read the definitions. I tried to write this so that you wouldn't need a glossary, but I provide one just in case you want it. As I use a word, I will try and put a picture of the text beside it (if that is warranted) in case your computer won't view the text properly. I've re-written the glossary on January 2, 2007. |
"The 'Osbert', Pickle"

If you would like to know more about this story please see the "Whyfore?" page. On that page, I explain a little bit about the motivation behind my story. I also give some idea where I am headed with it. I ask some specific questions about the grammar and such of the story. At the bottom of the page, I put some links to sites dealing with "Christian Science Fiction" and "Christian Speculative Fiction". (I have no idea if those sites are "on the Word" [Biblically correct] or not. I haven't had time to look at them much.)
If you'd like to make any comments about the "Book-Case Conundrum", please see the feedback page I did up for it.

I would be interested in knowing what you think of my story. I would like to learn what I need to know to improve it. Any feedback will be very much appreciated!!