My name is Robyn I live in Michigan. I am the adopted granddaughter of J.W. "Joe" Bitner of Littlefield, Texas. I am the adopted daughter, of Joe's daughter Teddye Jo. I am hunting descendants of G.W. "George", and Lenora Bell Bitner of Littlefield. That is, I am looking for descendants of Albert Dudley, "A.D." Bitner; Jess Fay, "J. F." Bitner; Virgil Lee Bitner; and Jewel Bitner Dillard.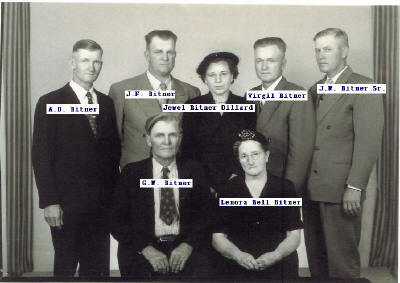 The Bitner's about 1952
Click on this photo in order to see a larger version. You should be able to view the text more plainly on the larger photo.
See the Bitner pictures in the Photo Pages to know more about this picture. There is also a version of this photo without text on it. Just click on it to make it larger.

This is the grave stone marking the graves of G.W. George Bitner (1882-1971) and Lenora Bell Bitner (1887-1985)
I do not have a "fixation" with death. I just wanted the information off the grave markers.

Grave marker of Artice Fern Bitner (1913-1997) and J.W., Joe Bitner (1914-2005).
More Bitner photos can be found in the "photo pages". I have on there some scanned in photocopies of pages from the "Bitner" family Bible which had belonged to Joel Wilson Bitner. Joel Wilson Bitner is the father of G.W. "George" Bitner.
If you are related to "us", or think you might be related, please fill out this form. If you do not give me your E-mail address, I won't have it. This form does not automatically collect E-mail addresses.
This form is not "secure". It is sent via E-mail to me. Please be careful with the information you provide in this form. We can arrange to exchange "personal" information more securely via postal mail.
We make it a policy NEVER to share information about living people without their permission. Anything we post to the web regarding a living person is simply shown as "Living" with no details about name or address.
Please see the Genealogy page to learn more. That page is my first attempt at doing up a form for you to fill out. It may not be worded the best way. There is also other family tree information on there as well. I am always looking for stories to add to these pages. At the address above, there are some examples of family stories. If you have any stories to add, please send them along as well.
Sorry if I have misspelled any names on these page!! I also apologize if I got any dates wrong. If I need to make corrections, please let me know what they are and I will do what I can!!!!
Due to excessive SPAM, this form is not working. The E-mail address listed on this page is still in working order. You can contact me via that address. I left the form on here, so you know what information I require in order to reply to your E-mail. Thank you!

| | |
| --- | --- |
| Name | |
| E-mail | |
| *Your City | |
| Your State | |
Please contact me as soon as possible regarding this matter.

* Items are optional.